WITS – Walk Away, Ignore, Talk it Out, Seek Help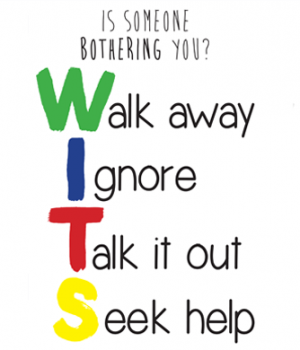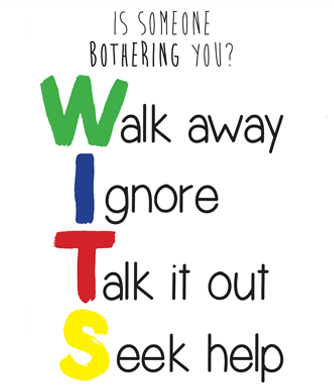 The WITS Programs bring together schools, families, and communities to create responsive environments that help children deal with bullying and peer victimization. WITS has two components: the WITS Primary Program (Kindergarten – Grade 3) and the WITS LEADS Program (Grades 4 – 6). The WITS acronym stands for Walk away, Ignore, Talk it out and Seek help. The program was created by educators, for educators, with an understanding that effective peer victimization prevention programs should enhance learning environments. The program resources are designed to weave comfortably into the daily life of the learning environment.
What are WITS?
Walk away!  Just leave the situation you are in. Take a friend with you if you can. Get help if you need it.
Ignore! Ignore is an action not a passive response. Don't respond to meanness or teasing. Sometimes it works, if not, seek help!
Talk it out! This one is tricky! Talk it out can mean a lot of things. It means Speak Up! Use your words! It also means that there is a solution to the problems you are having, but you may have to be brave and go ahead and talk about it. Sometimes it is hard, but using words really is the best way to resolve conflicts!
The program, which is guided by educators, empowers and teaches students how to implement these strategies. In addition, resources are available to teachers to discuss and address cyberbullying with learners. For more information about the WITS Program, please visit: www.witsprogram.ca