Bullying Prevention
WITS – Walk Away, Ignore, Talk it Out, Seek Help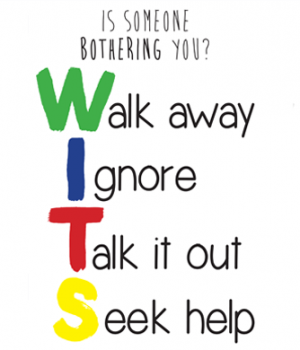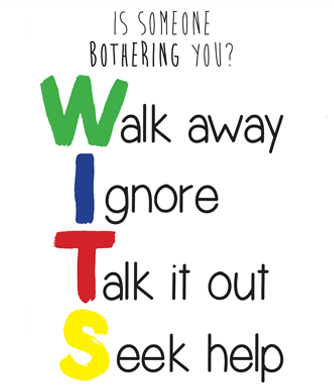 The WITS Programs bring together schools, families, and communities to create responsive environments that help children deal with bullying and peer victimization. WITS has two components: the WITS Primary Program (Kindergarten – Grade 3) and the WITS LEADS Program (Grades 4 – 6). The WITS acronym stands for Walk away, Ignore, Talk it out and Seek help. The program was created by educators, for educators, with an understanding that effective peer victimization prevention programs should enhance learning environments. The program resources are designed to weave comfortably into the daily life of the learning environment.
---
What are WITS?
Walk away!
Just leave the situation you are in. Take a friend with you if you can. Get help if you need it.
Ignore!
Ignore is an action not a passive response. Don't respond to meanness or teasing. Sometimes it works, if not, seek help!
Talk it out!
This one is tricky! Talk it out can mean a lot of things. It means Speak Up! Use your words! It also means that there is a solution to the problems you are having, but you may have to be brave and go ahead and talk about it. Sometimes it is hard, but using words really is the best way to resolve conflicts!
The program, which is guided by educators, empowers and teaches students how to implement these strategies. In addition, resources are available to teachers to discuss and address cyberbullying with learners. For more information about the WITS Program, please visit: www.witsprogram.ca
---
Restorative Practices
Restorative Practices aim to establish an environment where students are empowered to solve problems through authentic conversations using Restorative Proactive Classroom Circles, Questions/Conferences and Formal Conferences, in which all stakeholders have a voice in finding a solution.
Restorative Practices do not seek to deny consequences for misbehaviour, but focus on helping students understand the real harm done by their misbehaviour, to take responsibility for the behaviour and commit to positive change. A Restorative Approach works with all participants to create ways to make things right and make plans for future change.
The Restorative Practices Continuum moves from informal actions such as effective statements to the use of informal conversations and the "Five Questions," to more formal classroom circles or conferences. The "Five Questions" for reflection are:
What happened?
What were you thinking at the time?
What have you thought about since?
Who has been affected by what you have done? In what way?
What do think you need to do to make this right?
Proactive circles are rooted in the belief that "When we make others know that they belong, (and that we care); Then we all know we belong (and are cared for.)" Jean Vanier
It also functions on the belief that people are happier, more cooperative and more productive when people in authority do things WITH them, rather than TO them or FOR them.
We believe in the power students have to interact with others and solve problems in positive ways. Proactive circles also allow students to practice effective communication which is a life skill that we and our students can and must use in all relationships.
---
Continuum of Support
The Continuum of Support for building resiliency and positive mental health also serves as the Board Bully Prevention and Intervention Plan. It is based on developing a whole-school faith community that is safe, inclusive and accepting, utilizing our Gospel values and reconciliation.
A strengths-based approach builds the resiliency and positive mental health of students by developing students' empathy, understanding and use of effective strategies to prevent and respond to bullying if it occurs. The plan promotes prevention by a "Call to Care", with targeted interventions by a "Call to Action" and a "Call to Rebuild" through specialized supports.
---
Kids Help Phone Poster Campaign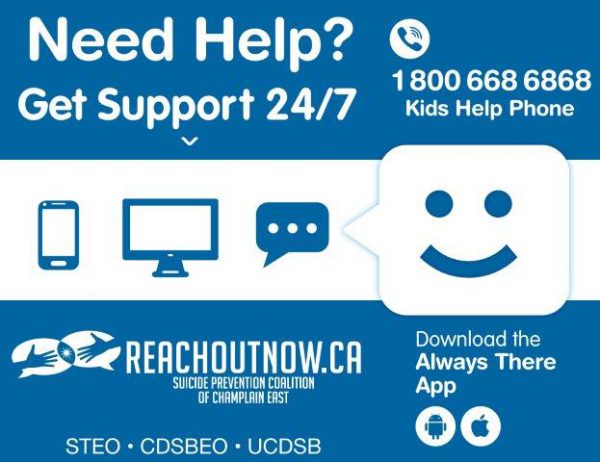 Bullying is the number one reason that young people reach out to Kids Help Phone. The CDSBEO, in partnership with STEO, UCDSB, the Suicide Prevention Coalition of Champlain East and Kids Help Phone, have introduced posters on all school buses to remind students that they always have someone to turn to who will listen, and provide support.
Kids Help Phone is Canada's only 24/7, national support service. They offer professional counselling, information and referrals and volunteer-led, text-based support to young people in both English and French.
Whether by phone, text, mobile app or through our website, you can connect with them whenever you want, however you want. Here are the ways you can reach out to Kids Help Phone now:
Here are some other resources you can use to find support:
Kids Help Phone is always there for you. No matter what you want to talk about, they are there to listen. No judgment, totally private, 24/7.
---
Additional Downloads