Black History Month at the CDSBEO
During the month of February, the CDSBEO will once again celebrate Black History Month! Many learning activities and curriculum will be shared in our classrooms and schools, with each week focusing on a particular aspect of Black history in our country – from Black Canadian Heroes, authors and literature to anti-Black racism/discrimination and the Canadian context of Black history.
Join us in celebrating and honouring the stories, contributions and experiences of Black Canadians!
Week 1 – Canadian Heroes
Did you know that the first Black senator in Canada was a woman by the name of Anne Cools? What about Barbara Howard, the first Black woman athlete to represent Canada internationally?
For the first week of Black History Month we focus on Black Canadian heroes from Viola Desmond to Donovan Bailey and many more!
Week 2 – Black History Canadian Context
For week two we concentrate on the Canadian context of Black History – the stories, experiences, and accomplishments that were integral in shaping the culture and society of today's Canada.
Week 3 – Anti-Black Racism and Discrimination
This week students are working together and with school staff to find innovative ways to promote equity, inclusion, and belonging for everyone by organizing anti-racism awareness campaigns including preparing posters, bulletin board displays, announcements, and social media posts!
The CDSBEO is also holding an Anti-Racism Art Contest, so stay tuned for entries!
Week 4 – Black Authors and Literature
The stories and experiences of Black Canadians are rich resources that can help to further educate our students and staff on the legacy and perspectives of these communities.
This week we focus on Black authors and literature throughout CDSBEO schools!
---
Guest Speakers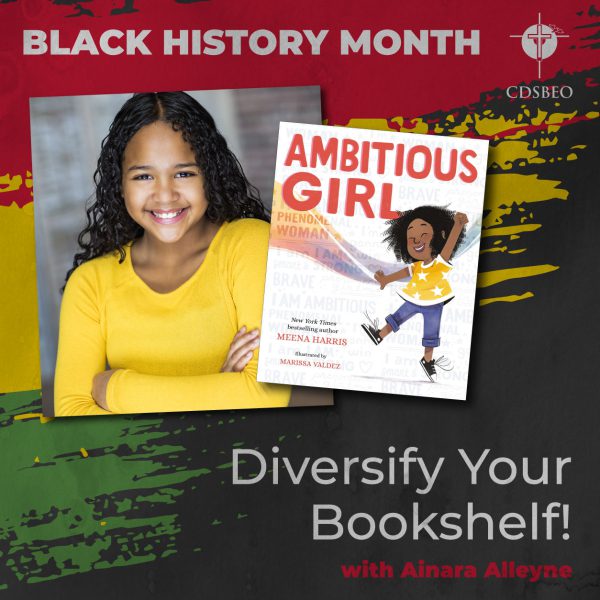 Feb. 8 – Ainara Alleyne
Eleven-year-old instagrammer Ainara Alleyne, has been inspiring people around the world by highlighting books whose characters are Black and people of colour. The CDSBEO is excited to virtually welcome Ainara into our grade 4-6 classrooms on February 8th!
During the session, she will discuss the power of the student voice, offer insight into how to diversify your bookshelf, and read "Ambitious Girl."
We are looking forward to her engaging and meaningful presentation!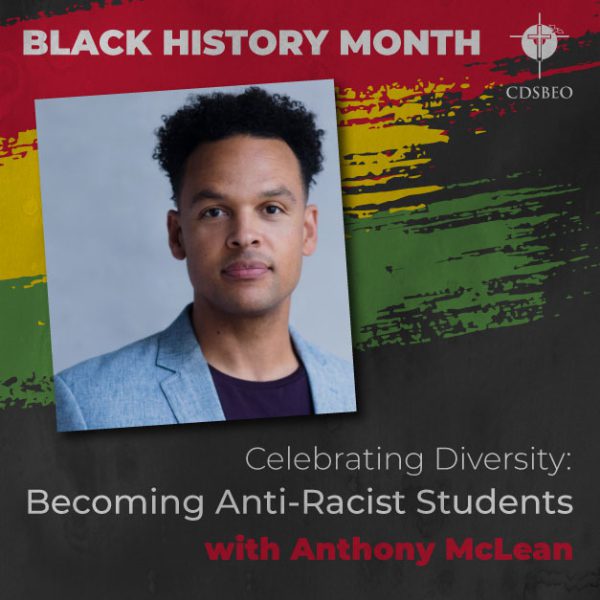 Feb. 9 – Anthony McLean
The long-term harmful impact of microaggressions, understanding the difference between "cancel culture" and "accountability," and harnessing the power of being an ally in your circle of influence, are important topics which will be discussed with grade 7-12 students in "Celebrating Diversity: Becoming Anti-Racist Students" with guest speaker Anthony McLean on February 9th from 1-2pm!
Anthony has delivered hundreds of talks across Canada, the US, and Australia. As a respected voice in his field, he has appeared on CBC News, Global Toronto's Morning Show, and Breakfast Television. We are honoured to have him chat with our students!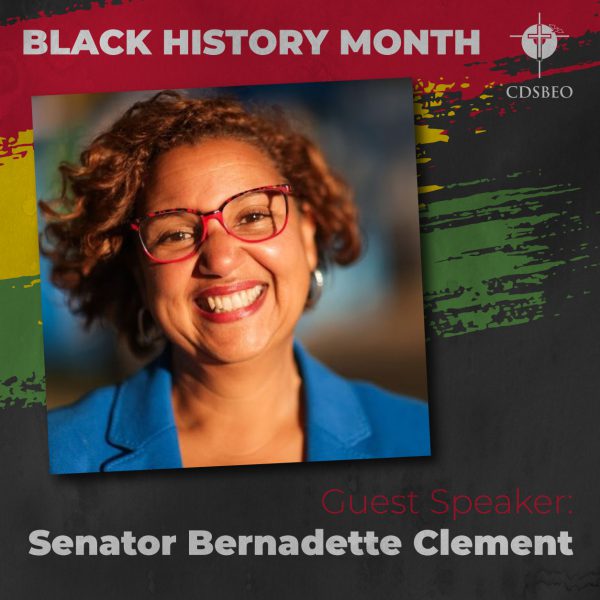 Feb. 10 – Senator Bernadette Clement
The CDSBEO is excited to welcome Senator Bernadette Clement to our Student Senate meeting on Thursday, February 10th!
Senator Clement was the first woman to be elected as Mayor of Cornwall, and the first Black female mayor in Ontario, and we are honoured to have this trailblazing Canadian chat with our students about what it means to be a responsible citizen, the importance of Black History Month, and more!
---
Anti-Racism Art Contest

The CDSBEO is pleased to be holding an anti-racism art contest focused on sharing the message of ending racism and promoting belonging!
Prizes to be won in each category (Grade 1-3, 4-6, 7-9, and 10-12) with the art work shared on CDSBEO social media!
Art work will be judged on creativity, originality, illustration, and expression of an anti-racism and belonging theme. Entries must be original, drawn or painted on 8.5" x 11" or larger.
All entries must include child's full name, grade, and name of school. Submissions can be sent to KBO through courier, or emailed to kathleen.mckenna@cdsbeo.on.ca.
Please note that the artwork will become property of CDSBEO and will not be returned.
Submission deadline is noon Friday, March 4th, 2022! Good luck!