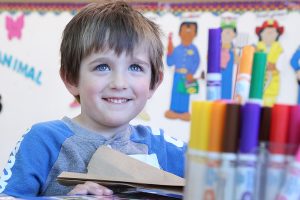 NOTICE: Please be advised that due to the unusual circumstances surrounding COVID-19, new student registrations for the 2020-2021 school year will close on August 14, 2020. This cut-off date is to ensure that appropriate planning can be done for the September startup. Given that we are unsure at this time of what the return to school will look like, we must plan for all scenarios. Any registrations received after August 14 will be reviewed, placed on a wait list, and parents will be contacted in September. We look forward to working with our existing and new families, and will do our best to accommodate new student registrations as we move forward during this unique time in education.
New Student Registration
Registration for the 2020-2021 school year is now underway! Registering early allows the Board to plan staffing for the new school year, ensuring sufficient educators are hired and adequate classroom space is allocated to welcome new students in the fall.
Start your child's education journey at a CDSBEO school… here's what makes us unique:
Please note for Kindergarten registration for students beginning school in September 2020:
Junior Kindergarten students must be 4 years of age by December 31, 2020
Senior Kindergarten students must be 5 years of age by December 31, 2020