Building Resiliency and Positive Mental Health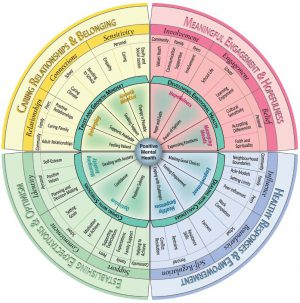 The CDSBEO is committed to building resiliency and positive mental health for all of our students. The Board has identified a Continuum of Support providing prevention, targeted intervention and specialized supports for students to develop resiliency, engage in restorative practices, stop bullying and support positive mental health.
School excellence involves positive social capacity and excellence in instruction. When these combine, students experience positive educational outcomes and relationships, which are essential to resiliency. The challenge for all of us is to build relationships and create environments and opportunities that promote positive mental health.
Our goal is to build the resiliency and positive mental health of our students by using a strengths-based approach to support students becoming positive, productive and responsible individuals. The CDSBEO Mental Health Lead has developed a resiliency lesson for students at every grade level, which corresponds with the curriculum expectations for both Religious Education and Phys-Ed.
Resiliency surveys are completed by all students in grade 3 to grade 12. Results are used to empower individuals and school teams to engage in, and better understand the strengths and skills that are essential for navigating life's challenges and becoming healthy adults.
School Resiliency Response Plans and Student Resiliency Action Plans are developed to utilize internal and external strengths to build student resiliency and mental health and reduce inappropriate and bullying behaviour.
Board wide Resiliency Surveys allow schools to look at their own school results and student profiles in order to build student resiliency and mental health. Our primary and junior students are extremely resilient whereas the high school students, in particular grade 12 students, see themselves as more vulnerable and less resilient.
As a Board, we are trying to focus on building mental health strengths and protective factors to change this trajectory and to help adolescents to feel empowered, and to cultivate sensitivity, acceptance, self-control, self-efficiency and planning and decision making skills. School and student Resiliency Action Plans are developed to identify strengths as well as areas to strengthen.