CDSBEO Teacher Fred Bortolussi Wins Queen's University Baillie Award
Fred Bortolussi, a recently retired teacher from St. Michael's Catholic High School in Kemptville, Ontario, has won the prestigious Baillie Award for Excellence in Secondary School Teaching for 2022. This award, presented by Queen's University, celebrates the lasting and positive impact that educators such as Mr. Bortolussi have on their students' journey to post-secondary education.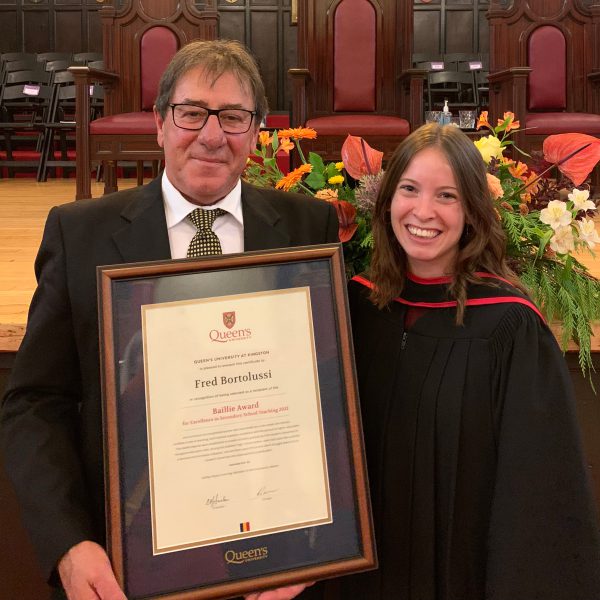 Mr. Bortolussi was nominated by St. Michael CHS alumna and Queen's University B.AH graduate and B.Ed student Peyton Horning, crediting him for teaching her how to be a good student, a good teacher, and a good human being.  
"The first time I walked across a stage wearing a cap and gown, Mr. Bortolussi was there, recognizing me with an academic award" wrote Ms. Horning. "Here we are, 4 years later, and Mr. Bortolussi was there as I again crossed the stage in a graduation gown, but this time HE was the one receiving the award. I am so grateful to have played a small part in seeing him recognized as the incredible educator he is. As he winds down his teaching career to enjoy retirement, I begin mine with the hope that I will ignite the same passion and fire for learning in my future students that Mr. Bortolussi helped ignite in me."
Mr. Bortolussi received his award on October 13, 2022 as part of the Queen's University Fall Convocation ceremony.
Well known for his gifted teaching skills and for fostering authentic learning experiences through his World War 1 Trench Project, Mr. Bortolussi's tireless energy has truly inspired countless students and teachers. The CDSBEO would like to congratulate Mr. Bortolussi on this prestigious award, and thank him for his many years of educating the heart, mind, body and soul of his students. Mr. Bortolussi retired from his teaching career with CDSBEO in June 2022.