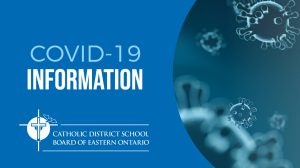 The CDSBEO has prepared a School Re-entry Plan which includes important information for parents pertaining to the return to school for September. The plan has now been published to the CDSBEO website. In addition, a link to a survey has also been posted to the website which parents must complete in order to facilitate planning for the school year.
For complete details please visit: www.cdsbeo.on.ca/cdsbeo-re-entry-plan/
Please continue to visit this page for further updates, which will be posted as details become available.