Indigenous Education News, News & Events
Tewahnekenhá:wi (We Are Carrying Water) Walk
On June 1, 2023 the CDSBEO partnered with Indigenous Community Partners, OPG Saunders Hydro Dam, The River Institute, Mohawk Council of Akwesasne Environment Program, Native North American Travelling College, City of Cornwall, Akwesasne Mohawk Board of Education, and local CDSBEO schools for the Tewahnekenhá:wi (We Are Carrying Water) Walk at Lamoureux Park in Cornwall, Ontario.
The idea for this walk began in 2019, when Elder Mary Anne Caibaiosai reached out to then CDSBEO Indigenous Education lead, Marian Lawson MacDonald. Mary Anne was looking for someone who would be able to connect the work that she was doing to fulfill the vision of Elder Josephine Mandamin, who walked around the Great Lakes and wanted to connect the St. Lawrence River with the Great Lakes through the sacred ceremony of healing the water.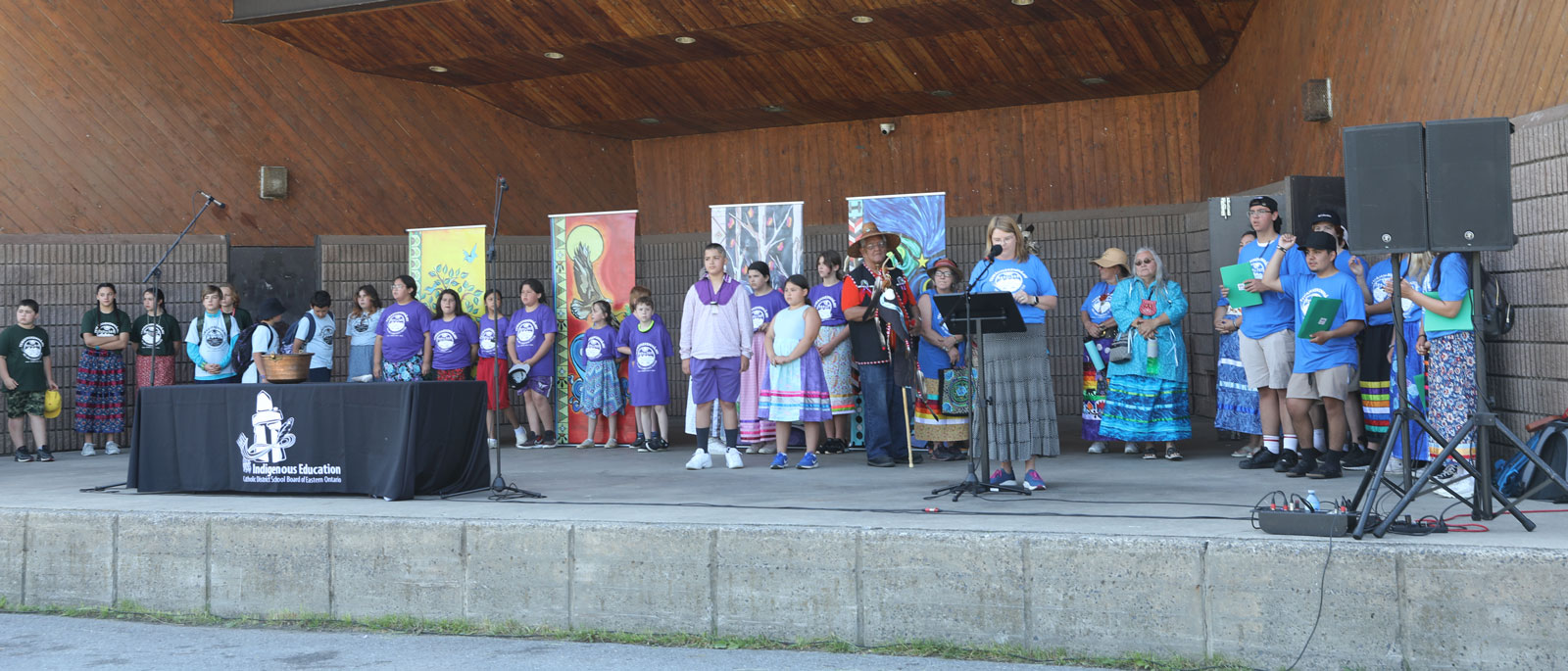 CDSBEO elementary students prepared for this walk by learning about traditional water walks through stories and learning activities sent to schools. They have learned more about water quality and climate change through our partnership and visits from The River Institute. They have also learned from traditional grandmothers who have shared the teachings of warrior bracelets, traditional Anishinaabe and Haudenosaunee water songs, and protocols for a traditional water walk. The work was overseen by Indigenous partners Atewennaron (David Dearhouse), Wathahiiostha (Theresa Cook), Brenda Rivers, Marlene Souliere, Mary Anne Caibaiosai and Konwaniahesaon (Cindy Garrow).
The walk drew hundreds of students from four CDSBEO schools, and many community members to the park for the opening ceremony, followed by a 5.1km walk upriver to the OPG Visitor Centre.
Thank you to all partners and community members for joining us on this walk and making this initiative a reality.