Truth and Reconciliation Week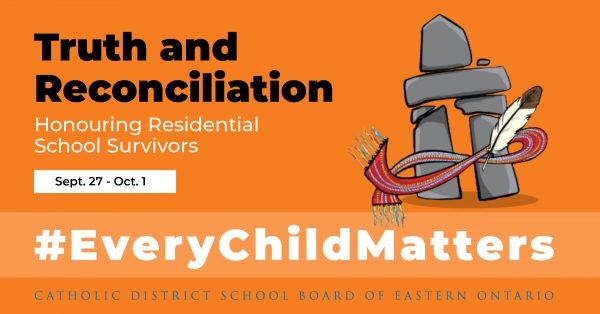 The week of September 27th– October 1st marks a week-long focus on Truth and Reconciliation at the Catholic District School Board of Eastern Ontario – to commemorate residential school Survivors, their families, and all affected by the residential school system.
Throughout the week, CDSBEO teachers and students will be commemorating Truth and Reconciliation Week which includes a virtual event open to all youth grades 5 – 12. Presented by the National Centre for Truth and Reconciliation, this virtual event highlights important conversations including the truths of the Indigenous treaties, First Nations, Métis and Inuit land claims, and the residential school system.
On Thursday, September 30, the CDSBEO will participate in Orange Shirt Day 2021, as part of Truth and Reconciliation Week. We also join with Pass the Feather for "Remember Me", a national gathering and live stream from Parliament Hill to remember Indigenous children and families affected by residential schools.
By concentrating on Indigenous perspectives and worldview throughout the year, our hope is that Orange Shirt Day will be one day amongst many whereby we actively pursue new understanding of truth so that we can reconcile with Indigenous people.
Together we will build understanding of the impact of residential schools in the spirit of reconciliation.