Sisters' Cup Raises Over $3500 for Maison Baldwin House
On December 14th, two CDSBEO schools took the ice once again for the Sisters' Cup in support of Maison Baldwin House in Cornwall. The popular game between the Holy Trinity Catholic Secondary School Falcons and the St. Joseph's Catholic Secondary School Panthers, has been on hiatus for the past three years due to the COVID-19 pandemic, but continued this year at the Benson Centre in front of a packed house of enthusiastic fans and supporters.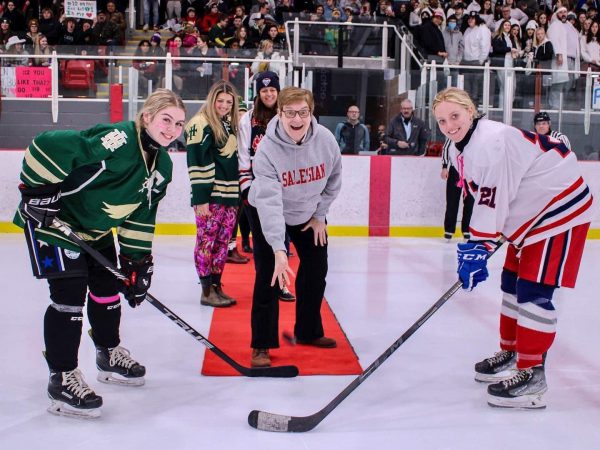 "The Sisters' Cup is centered on providing female athletes an opportunity to showcase their talents while coming together as sisters in sport" said Holy Trinity CSS Principal Nancy McIntyre.
In addition to the on-ice thrills were the funds generated for Maison Baldwin House in Cornwall, a shelter offering support, information, and a safe place to stay for women who are experiencing abuse. All proceeds were donated to the women's shelter, totaling an impressive $3508. Both schools were proud to help support this important local organization.
When the final whistle blew, it was the St. Joseph's Panthers who were raising the cup in a stunning 1-0 win.
Thank you to both schools as well as the players and organizers for continuing to showcase female athletics in our region!