Student Leadership Through Coding
Submitted by Chris Stewart, Technology Enabled Learning Consultant
What do you get when you mix computational practices, concepts, and dispositions together with unplugged coding approaches?
Throughout the months of January and February, students and staff at St. Joseph Catholic School in Gananoque found out the answers to this question – the answers being FUN, and more fun with learning how to digitally control a physical object using what is called Computational Thinking.
The physical object being controlled is known as a Sphero Indi – a small robotic vehicle that responds to colour cards. Each colour card specifies an action the Indi uses to control direction, speed, sound, and lighting patterns. This piece of technology is one of several coding robots purchased and being made available by CDSBEO's Curriculum Department.
Not only do students learn about sequencing these cards to make Indi respond in particular ways, but they also develop and use many computational thinking skills and concepts through varied teaching and learning approaches. What is often looked upon as the most important aspect of computer programming (coding) are the dispositions that students develop.
Computational Thinking: The skills, concepts, and dispositions that students develop and use to control objects, build digital applications, simulate events, and create and visualize data models.
At St. Joseph's Catholic School, a unique approach to both teaching and learning was taken to help build a coder's mindset. Buddy coding is a student leadership approach which allows students to experience a type of learning that occurs between children of different age groups. Specifically, students in the intermediate grades developed and used their coding skills, concepts, and dispositions by first learning how to work with Indi, and then transferred their learning to coaching students in primary grades—as they, too, went about learning how they could represent and demonstrate their thinking with Indi.
According to Principal, Lori Anne Donovan, "It was a great opportunity for student leadership and coding. The grade 7 and 8 classes did a great job of learning how to use the Sphero Indi and then teaching all the other classes. They worked very hard to figure out all the different things they could do, and then took what they learned and shared it with others. They were able to share their learning with all other grades, and they were very excited to do so."
The Indi is a great tool for developing teamwork, problem solving, and collaboration, and for creating exciting and engaging learning opportunities for all learners.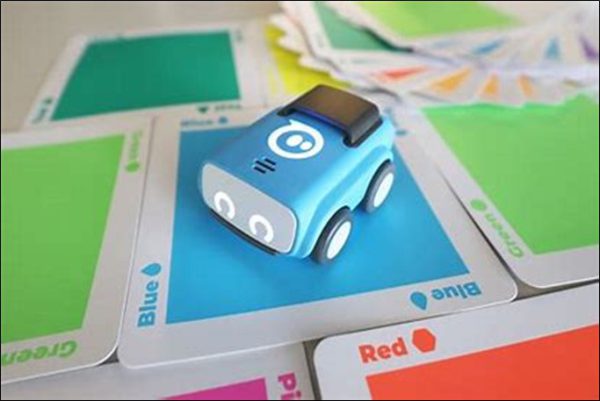 "All students were very engaged and even the Kindergarten students were able to use the Sphero. The teachers with younger classes were happy to have the grade 7 and 8 students show younger learners how to use them, which was a great learning opportunity for everyone."
Follow Technology Enabled Learning Consultant Chris Stewart on Twitter @math_inquirer and Facebook at Learning Together